I don't know about your students, but ours were all about the Olympics at the start of the school year! They were inspired by the performances of all of the amazing athletes. We thought it would be a good idea to channel all of that excitement into a fun math activity for the beginning of the school year, The Place Value Games!


We knew that we wanted to do something that would be relevant in future years, even when the Olympics weren't taking place, so we decided to create interactive games that could be played any time. Our students had a blast competing against themselves and each other while getting in some great estimating and place value practice. In the end, we recognized the "high scorers" in each of the events.


*Teacher tip: Introduce 1-2 games each day and let students have a chance to practice. Once they have had an opportunity to play each game, have a day where all of the game stations are available for the students to rotate through. Believe us, it will make your life a lot easier ;).
Check out the different events below:


One-Handed Cube Grab– The students practiced their estimation skills by estimating how many ones cubes they could grab in a single hand.
Stack Em' Up– In this game, the students used their creativity and engineering skills to create a tower of tens rods within a one minute time limit. They practiced counting by tens as they determined the value of their final tower design.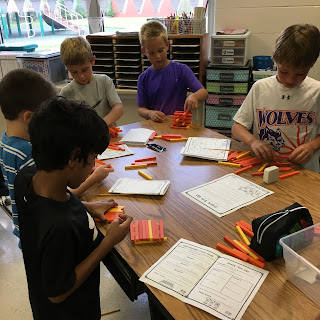 Bullseye– This was a fast paced number building game where the students raced to create a given number with place value blocks before their opponent. 
Guess My Number– The students worked to solve number riddles using number/clue cards.
Race to 1000– A dice game that challenged the students to strategically use their knowledge of place value to reach 1000 without going over.