8 Creative Ways to Celebrate Earth Day with Elementary Students
Are you looking for some ways to celebrate Earth Day with your students? Read on to find out about some creative ideas you can use in your elementary classroom and grab a FREE Earth Day activity!
April 22 is the day we take time to celebrate and appreciate our planet Earth. It is a great opportunity to introduce elementary students to the importance of preserving our environment and get them involved in some fun, hands-on activities. The following ideas are Earth Day activities that can be easily used in any elementary classroom!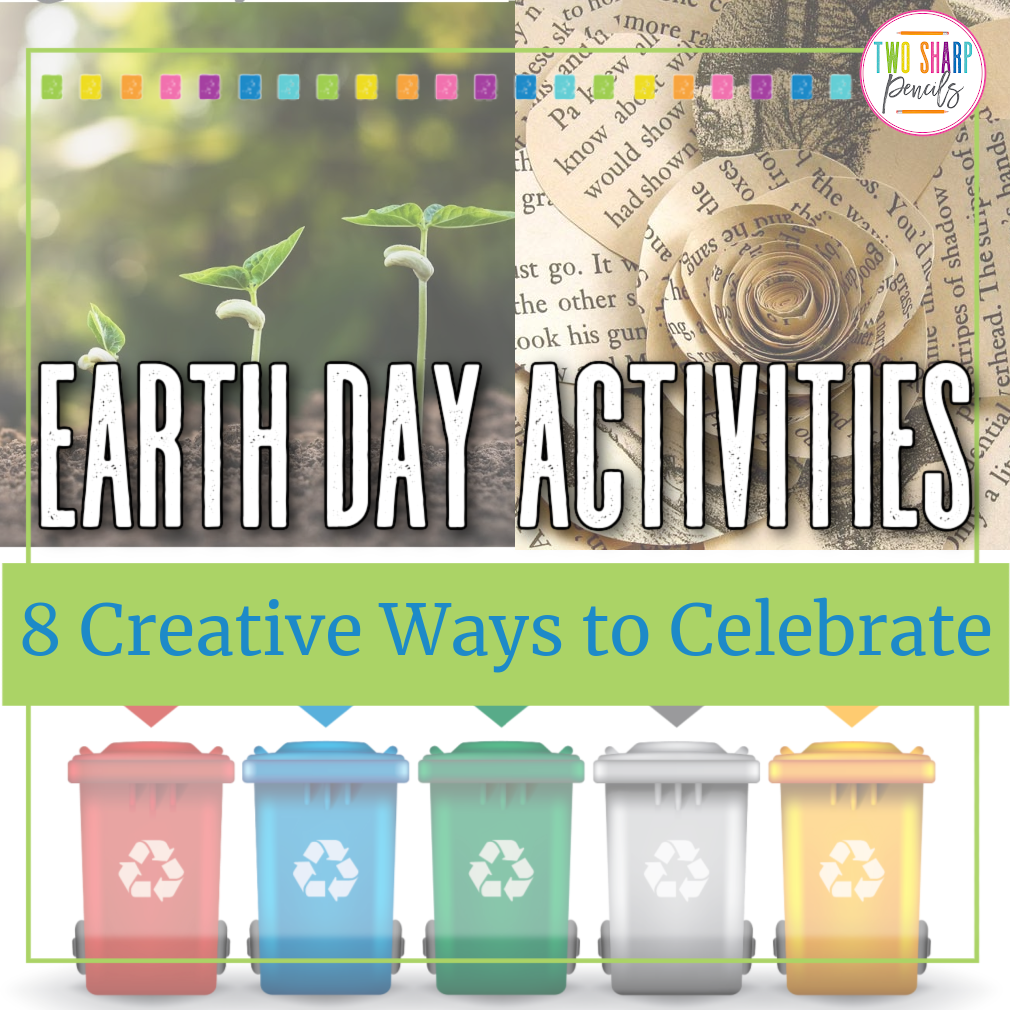 Earth Day Scavenger Hunt
Provide students with a list of items found in nature that they need to find. Either hide things such as recyclable materials, leaves, rocks, or even pictures of animals, in the classroom, or have them search for the items outside. It's a great way to get students moving and they can even work together in teams. After the hunt is over, have a discussion about the importance of the materials to our earth. Or for a creative twist, play Earth Day Scavenger Bingo like the one pictured below from Detroit Mom.
Grow a Plant
There is something about planting a seed and watching it grow that is always so exciting. Give students the opportunity to watch their own seeds sprout. Provide each student with a small pot, soil, and seeds and then monitor the growth. Talk with students about the role of plants in providing oxygen for the Earth.
Check out our Grow a Plant booklet below. Students try and grow plants in three different types of soil and track the growth over time.
Recycling Relay Race
This fun activity is a great way to help students understand the importance of recycling and sorting waste. Divide the class into teams and provide each team with recyclable materials. The teams will race to sort their materials into the appropriate recycling bins. Throw nonrecyclable items in the mix to see if they can find the items that don't get recycled.
Take a Nature Walk
Get out of the classroom and take your students on a nature walk outside. You can take a walk around the school grounds, or get permission to go to a nearby park. Give students magnifying glasses and have them observe plants, animals, and insects, as well as any human impact on the environment. They can draw pictures or take notes about what they notice. When you return to the classroom, allow students to share what they observed. This can lead into a discussion about the importance of preserving natural habitats.
Upcycling Art Project
Introduce the concept of upcycling by having students create art projects using recycled materials. Provide a variety of materials, such as old newspapers, magazines, plastic bottles, and cardboard, and show examples of upcycled art such as the ones above. Encourage students to use their creativity to transform their materials into art. Students can then display their art work and you can invite other classes to attend a gallery walk.
Water Conservation Experiment
Talk with students about the importance of water for the environment. You can discuss real world examples of what can happen when there is not enough water and discuss the importance of conserving water resources. Have students keep track of the amount of times that they use water throughout the day while performing tasks such as washing their hands, brushing their teeth, or watering plants. Discuss ways that they can reduce their own water usage at home and at school.
Do an Energy Audit
Take a tour of the classroom and have students identify areas where energy can be saved. This might look like turning off the lights when leaving the room or unplugging electronics when not in use. Not only will students become more aware of the ways energy is being used, they will also learn how they can do small things to help conserve energy. The lesson below from the University of Wisconsin includes a checklist for students to use to find out if their classroom is energy efficient.
Do a Writing Activity
After completing various Earth Day activities or learning about why we celebrate Earth Day, allow students to reflect on ways that they can help the Earth. They can write a paragraph about what they have learned or even a persuasive essay encouraging others to reduce, reuse, and recycle. If you are looking for a fun and easy writing activity, grab our Earth Day resource here for FREE! It includes a reading passage about Earth Day and a spinning wheel craft.
Earth Day provides a valuable opportunity to engage elementary students in learning about the environment and preserving our planet. We hope that we've given you some fun and easy ways to celebrate Earth Day. By incorporating even a couple of these activities in your classroom, you can help foster a love for nature for your students that will last a lifetime!
Looking for more fun science activities for your classroom? Check out our blog post on 10 Energy Resources STEM Activities to Excite Your Students
Subscribe to our newsletter for special content, free resources, and discounts!