Classroom Transformation Series: Hollywood Movie Theater Classroom Transformation with 6 Easy Steps
Welcome back to part two of our 4 part Classroom Transformation Series! We will be sharing how to create a movie theater classroom transformation that will be a big hit with your students. We know that teachers have so much to do every day. Sometimes the idea of transforming your classroom can seem so time consuming and difficult, but our goal is to show you that it doesn't have to be.
Why Do Classroom Transformations?
Students learn more when they are engaged.
It's fun to transform the look of your learning environment.
Bring excitement into otherwise un-engaging topics.
Create memorable classroom experiences for students.
Transformations can be recreated year after year.
We want to give you new ideas for how to create these experiences in your classroom WITHOUT the stress! Your students' excitement will definitely be the reward.
If you missed week 1, we shared how to transform your classroom into a campground. Check it out here!
For our second week we are exploring the Hollywood movie theater theme! This is such a fun and easy transformation to do and kids love it! Read on to find out 6 ways to transform your class into a Hollywood experience and grab a FREEBIE.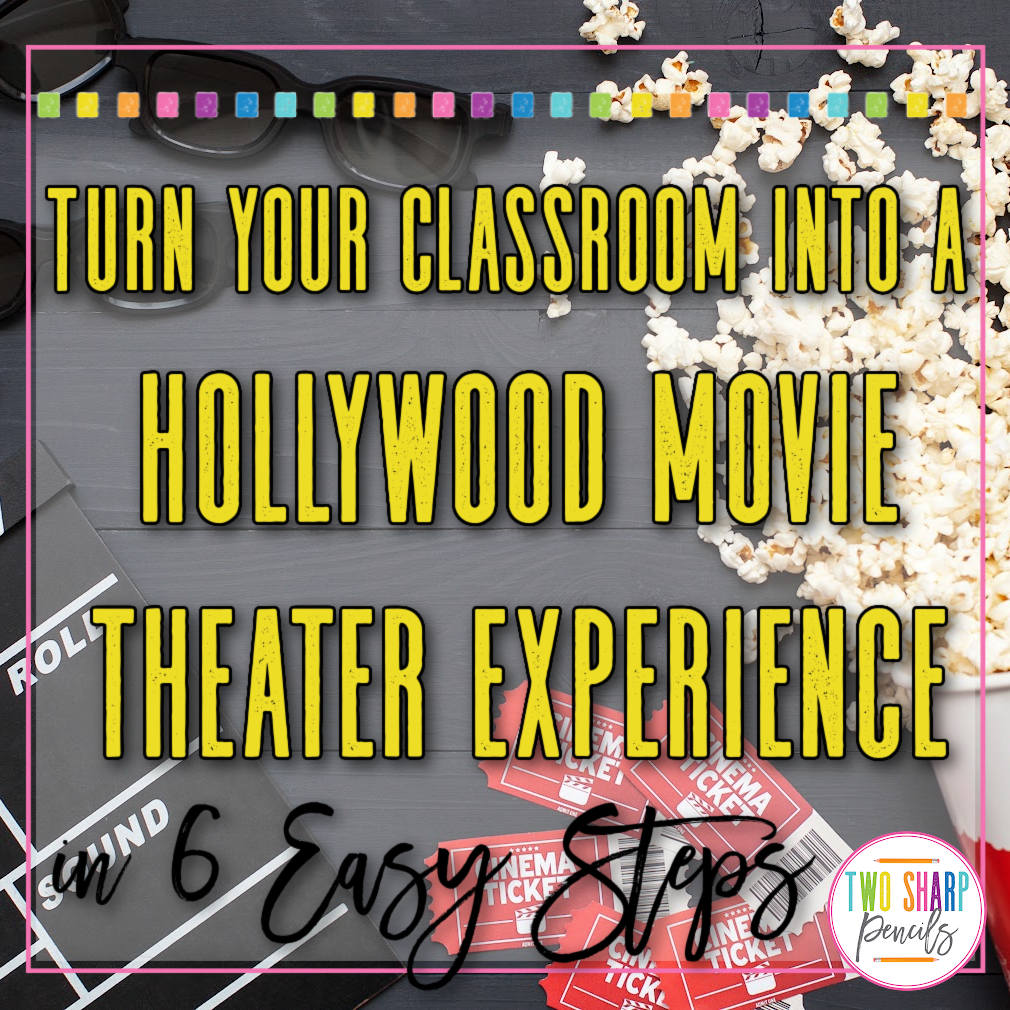 Create a Hollywood Movie Theater Atmosphere
Who doesn't love a good movie? Movies have the power to transport you to a new world, the same can be done in your classroom! You can make a huge impact with this theme very easily and without spending a lot of money.
Red, black and yellow is your color theme for this room transformation. Start with a long strip of red paper to make a red carpet entry for your students. You can use plastic tablecloths as curtains on doorways and windows. Your students can even make their own star out of construction paper to glue on the red carpet.
Amazon has really great photo backgrounds that are easy to pop on the wall. They make great backdrops for photos of your students too!
We also loved making a hallway walk of fame using our students pictures and handprints.
Serve Snacks for the Stars
You can't turn your classroom into a movie theater without popcorn! Kids love it, and it's a super easy snack idea. Try adding in some candy to make it even more tasty.
Or, if you want to get fancy, try some of these ideas from Craftibilities.com:
Use Hollywood Themed Resources
Students will have such a heightened excitement because of the fun changes to their classroom, they will be willing to learn pretty much anything. Take advantage of the engagement by using Hollywood/Movie themed resources to teach concepts throughout the day.
We love teaching time with this transformation because it works so well with movie times. Students will love doing these math centers to practice telling time to the nearest minute and elapsed time.
You can grab a freebie from this unit here!
Watch a Movie
Let's be honest, we all have times when we just need them to watch a movie. One of our favorites that fits this theme well is Sing or Sing 2. It's a cute story of a group of animals trying to make it big in Hollywood and save their theater. If you have Netflix, you can stream it directly to your classroom tv or screen.
Check out some great ideas from Around the Kampfire about how to make your movie days educational!
Read Lights! Camera! Alice!
We love this biographical picture book about the life of Alice Guy-Blaché, the first woman filmmaker! Alice Guy-Blache was one of the first people to tell stories using film but it was only recently that she was credited for her work. This 'story' charts her storytelling journey from bookworm, to first job with a camera production company, to telling her first story on camera and making hundreds of films. It will also teach your students about the importance of perseverance, hard work and following your dreams.
You can watch a read-aloud of this book on YouTube here!
Let Them Act!
Kids love acting! There's so many ways you can work plays and/or skits in to your curriculum. Let your students share their knowledge of a certain topic by creating a script for a play or movie. We've even filmed them before and shown them to the class later. They will absolutely remember any material when they see themselves and friends on the big screen.
We hope you've gotten some great ideas that you can use in your classroom to transform it into a Hollywood movie theater. You and your students will love the glitz and glamour of this easy to do room transformation!
Subscribe to our newsletter for special content, free resources, and discounts!