Making Test Prep Fun: 5 Ideas to Ramp Up Engagement
Spring is here! While we love the change of weather and ability to get back outside, it brings along with it some serious classroom obstacles.
TESTING…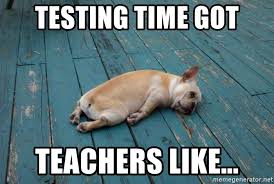 Nobody actually enjoys getting their students ready for the big tests. The moans and groans about boring test practice is enough to make any teacher lose their cool. But what if we told you it doesn't have to be this way? What if there's a way to make test prep enjoyable (and even fun) for both you and your students?
Read on to find 5 tips and tricks to transform your classroom test prep from mundane to magical and grab a freebie or two on the way!
1. Highlighters and Black Lights
One of the easiest way to up the engagement factor is to switch out your students' pencils with highlighters and set up a black light in your room. You can still use the regular test practice questions, but your kiddos will be so much more engaged when they see their answers start to glow. You can buy a black light on Amazon for under $20!
2. March Madness Trashketball
March is the perfect time to bring basketball into your classroom. All you need for this engagement booster is a trashcan, a small basketball and masking tape. We like to use task cards with targeted skills your students need, but really any worksheet or set of problems would work.
How to play: Divide your class into teams (size of teams is up to you but we find smaller teams of 3-4 work best). Take turns handing a task card or problem to each team. If they solve/answer the problem correctly, they earn 1 point. They then have to decide if they want to try for 2 or 3 extra bonus points. The point lines are marked with masking tape on the floor with 2 points being closer to the trashcan and 3 points being slightly further away. One student from that team will shoot the ball. If they make a basket, the bonus points are added to their team's score. If they answer/solve the problem incorrectly, it's the next teams turn for a problem.
3. Kaboom!
This is another super simple game that can be used with your existing test prep questions to be more exciting. Before you play, write point values on strips of paper.  You will also add several slips of paper that say "Kaboom!" Add all the slips of paper into a container.
How to play: Students can play in groups or individually to answer a question. If they answer correctly, they pull a slip from the container to see how many points they earn. If they pull a Kaboom slip, they lose ALL their points and start back at zero.
4. Bean Boozled
There's just something kids love about the possibility of eating something disgusting. This is a fun and easy game, all you need is a pack of Bean Boozled jelly beans. If you're not familiar with these, each color has two versions of jelly beans: one tastes really good while the other tastes horrible. There's no way to tell which is which.
How to play: Students will play in groups. Each group will answer a question. You can use existing test prep questions or task cards. If they answer correctly, they will send one student up to taste a bean. Fair warning: You may want to have a trash can nearby so they can spit out the jelly bean if it's a bad tasting one.
5. Try a Room Transformation
This idea takes more prep time than the others, but it's worth the extra work! Anytime we've used a room transformation in our classroom, we've seen instant student engagement and excitement. There's lots of themes you can use for test prep, but our favorite is a Race Track theme. You can buy race themed birthday decorations to hang around your room and add simple black tablecloths with white strips down the middle to look like a road. Ask your gym teacher if you can borrow some orange cones too.
We created this test prep unit to go with the racing theme. Your students will race around the track to review important skills that are often included in standardized tests. If you'd like to try these for free, we've included a free sample of both our reading and math units.
We  believe that students that are engaged learn so much more than students who aren't! We hope these ideas help ramp up the fun AND the learning for your class. Good luck!